Basic Car Maintenance: How to measure tyre tread depths
Watch this short video on how to check your tyre tread depths.
Why is it important to have good amounts of tread on your tyres?
Tread plays a massive roll in dispersing water while driving in the rain, as the groves in the tyre direct and channel the water away from the tyre, to give a good contact patch on the road surface, so you car can handle and stop the car without sliding and losing control.
What should you expect to see?
If your car is a front wheel drive, you should be able to see a more uneven wear pattern on your front tyres and a more even pattern on your rears. This is down to the front of course having the ability to steer the car, but then they also have to handle to power of your car and translating that into forward momentum.
Rear wheel drive cars should see a similar uneven wear pattern as on the front due to the steering, but having the engines power diverted to the rear tyres, you will find your rear tyres might wear evenly but also wear faster than the front.
Easy process to checking your tyre tread depths
First step in checking your tread depths, is turning the wheel on full lock to one side, so your able to get a good view of the whole width of the tyre.
Once you have done this, you can either get a tread depth gauge or you can use the wear markers on the tyre as a guide. The minimum tread depth is 1.6mm (Legal limit UK) around three quarters of the tyre, so bear this in mind when your measuring.
Using a tread depth gauge
---
If you are using a tread depth gauge, you place it on the surface of the tyre and push the end down and "A needle" will stick down into one of the tyre grooves and you'll be able to get the depth reading.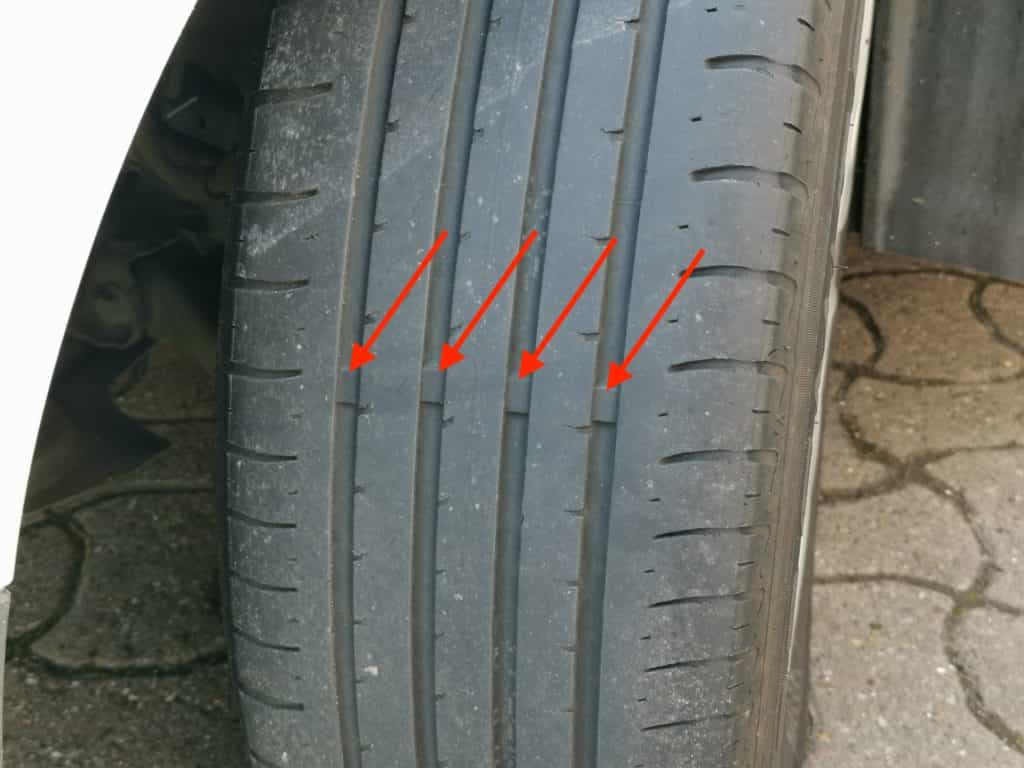 Using the wear markers
---
If you are visually looking, you need to find these wear markers that are dotted over the circumference of the tyre and you'll find them in the groves of the tyre. You can easily see them on this tyre. These markers are set to 1.6mm so if you can see that these markers are flush with the rest of the tyre, then it's time to get a new tyre.
If you need to replace a tyre
If you do need a new tyre, we always recommend replacing tyres in pairs, so you don't have 1 tyre over performing and 1 tyre underperforming as this can unstable the car while cornering and put more force through the new tyre because the old one cannot hold its own. Which in effect will wear out your new tyre faster.
So there you have it, all you need to know about tyre tread depths.
Need help? Find a mechanic by entering your reg below!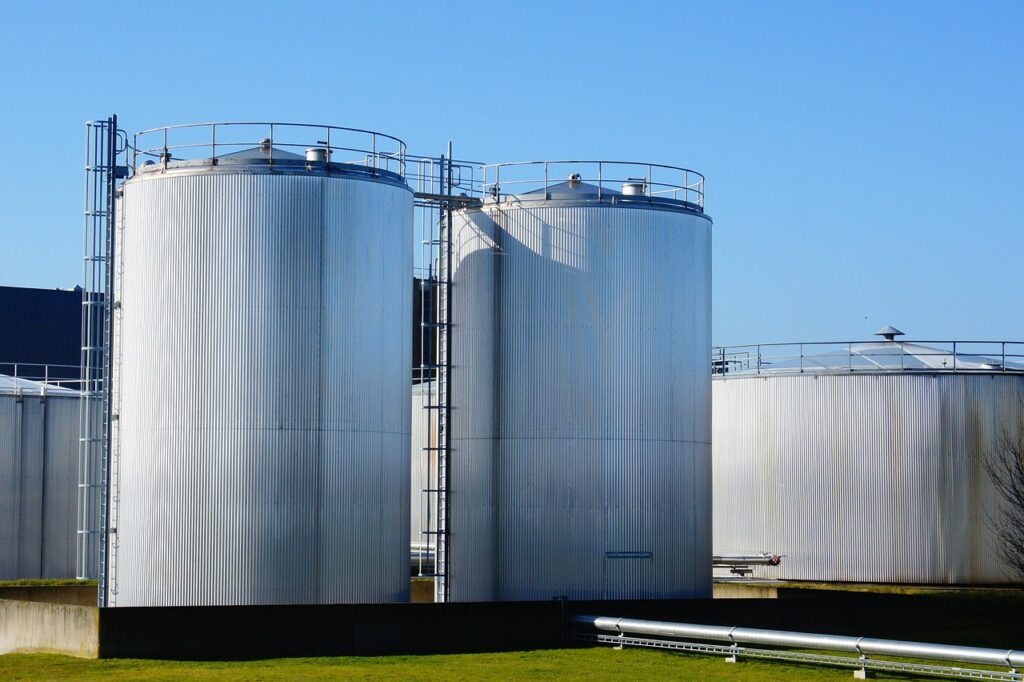 What Are Synthetic E-Fuels
Synthetic E-Fuels What are synthetic e-fuels? Also known as electrofuels or power-to-liquid fuels, are artificially produced fuels that are generated by combining renewable electricity (often denoted as "e" for electricity) with carbon dioxide (CO2) or other carbon sources. These fuels are manufactured through a two-step process that involves using renewable electricity to produce hydrogen, which […]
What Are Synthetic E-Fuels
Synthetic E-Fuels What are synthetic e-fuels? Also known as electrofuels or power-to-liquid fuels, are artificially produced fuels that are generated by combining renewable electricity (often denoted as "e" for electricity) with carbon dioxide (CO2) or other carbon sources. These fuels are manufactured through a two-step process that involves using renewable electricity to produce hydrogen, which […]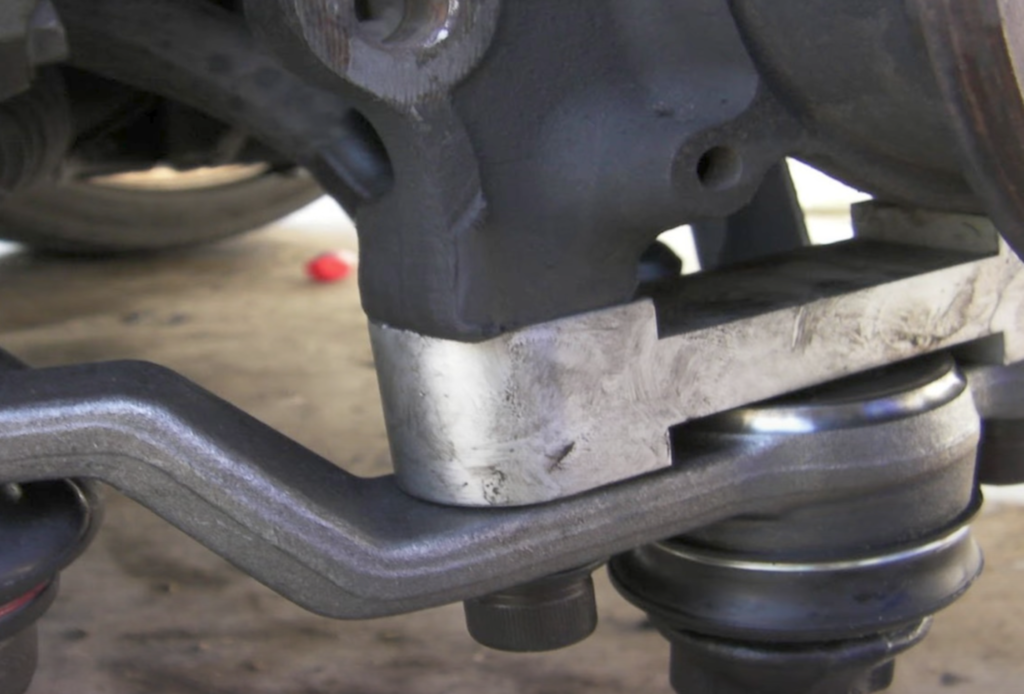 Vehicle Ball Joints
What are they? Vehicle ball joints are critical components of the suspension system that provide a pivotal connection between the control arms and the steering knuckles. They allow for smooth and controlled movement of the wheels and smooth and solid movement in the suspension. The front suspension of most cars has at least lower ball joints […]
Vehicle Ball Joints
What are they? Vehicle ball joints are critical components of the suspension system that provide a pivotal connection between the control arms and the steering knuckles. They allow for smooth and controlled movement of the wheels and smooth and solid movement in the suspension. The front suspension of most cars has at least lower ball joints […]
Vehicle Ignition Coil Packs In your Car
What are they? A car coil pack, also known as an ignition coil pack, Coil-On-Plug, or simply a coil pack, is an integral component of the ignition system in many modern petrol vehicles. Its primary function is to generate and provide the high voltage needed to create a spark across the spark plus in order […]
Vehicle Ignition Coil Packs In your Car
What are they? A car coil pack, also known as an ignition coil pack, Coil-On-Plug, or simply a coil pack, is an integral component of the ignition system in many modern petrol vehicles. Its primary function is to generate and provide the high voltage needed to create a spark across the spark plus in order […]