Car Repairs Manchester
Car repairs and servicing in Manchester Get a quote from a local Garage now!
Do you want to find Garages for Car Repairs in Manchester? Because you want to save money and time then look no further. Looking for the best price on car serving in Manchester get quotes by using AutoAdvisor. So to be sure to get the best price Enter your registration Now!
Simple to use
Get Car repairs quotes & car servicing from local Manchester garages in 3 easy steps.
Pay the Garage on completion
You do not pay a penny until the work is complete and your car is ready to go.
Compare Quotes
Compare quotes and decide which garage you would like to cary out your car repairs in Manchester.
New Garages joining all the time
With new garages joining all the time we are One of the Uk's fastest growing garage network giving you the best choice and prices
Manchester Did you know
What a lot of people from outside of Manchester may not realise is what an international hub for technology, innovation and creativity there is because of the area known as Media City. MediaCityUK is a 200-acre (81 ha) mixed-use property development on the banks of the Manchester Ship Canal in Salford and Trafford, Greater Manchester, England. This is home to the likes of the BBC, ITV, Kelloggs, Ericsson and is the home to many as TV production centre. Car repairs and servicing may not be so interesting as Manchester filmed Coronation Street but an everyday issue to take care of because after all we all rely on our vehicles.
---
Car repairs in Manchester – get the best price for your car repair or servicing.
It is very easy to use the AutoAdvisor web site to get the best quote for your car repairs or servicing requirements. You just need to follow the three simple steps below and you are guided by the system each step of the way. So why put off getting the repair work carried out, save money and enter your car registration to request a quote today!
---
1
Required Work on your car
Enter your registration
Vehicle Milage
2
Enter your postcode
E-mail Address
Any additional repair information you choose
3
Set-up an account
Sit back & relax
Wait for your money saving quotes
---
What happens after you have requested your car repairs or car servicing quote
Once you have followed the three simple steps to request a car servicing or repair quote an e-mail is sent out to local Garages giving them the opportunity to quote on your requirements. They do not receive any of your contact details. The Manchester Garage reviews the information that you have provided in order to provide you with the best possible quote. You then receive a quote notification by e-mail to ask you to log onto your portal to review your quotes. If you wish to proceed with any of your quotes, you just accept the quote from your chosen Garage. It is all that simple to get the best price for your car servicing or car repairs Manchester.
The quotes that you receive
You will receive quotes car repairs or car servicing from independent local Manchester Garages. Non of the quotes will be an automated response that you will find with some systems. All are garages will provide you with a specific quote for you car repairs and car servicing based on the information that you provide. Request quotes today, get you car repaired or serviced and save money.
---
Enter your registration Now! Because you want to fix your car and save money!
---
You choose which garage you want to use
With the AutoAdvisor system you are able to choose which garage you would like to have fix your car. This based on your estimate, garage profile and information provided by the garage.We like to be totally transparent so please be careful as not all websites allow this choice of Garage for your Manchester car repairs and Manchester Car servicing.
FAQ's
Is there any commitment when I ask for car repairs or car servicing quotes in Manchester?
So the answer is, No absolutely not! There is no commitment in requesting quotes and the garages do not have any of your personal details when quoting. Garages are quoting on the information you give them. Therefore you chose if you wish to accept any quotes or not. So absolutely no commitment to the customer.
Are there any fees payable for joining AutoAdvisor and requesting quotes?
No, AutoAdvisor is free for the customer to use and get competitive quotes from local Manchester garages and save money. So this service is free to the customer and always will be.
What should I do if I don't know what's wrong with my car because it has an intermittent fault?
Firstly in the case you do not know what is wrong , is just give as much information as possible in the note box because the garage can quote a diagnostic fee.
Car servicing and repairs from a Manchester car Repair garage near you!
---
Manchester motoring History
Manchester has a long history of motoring and motoring expertise. In 1914 Manchester was one of the biggest manufacturing cities in the World. Ford had opened their first factory outside of the United States at Trafford Park in 1911. There was the Belsie Motor Company which was Manchester's largest native manufacturer which produced high quality motor vehicles for the more wealthier customers. While it may be true Manchester has lost its car manufacturing past of course above all has certainly not lost any expertise in car servicing and repairs because there are many highly trained and experienced Garages, mechanics and technicians in Manchester.
---
---
Featured AutoAdvisor Manchester Garages
Pit Stop Car Sales & Repairs -1 Culland Street, Manchester, M12 4DD
Phone: 01612 733423
---
We offer a great range of services and specialise in car servicing and MOT's, all at great prices. We pride ourselves on our excellent customer services, along with great workmanship. Our fully trained mechanics will be on hand to answer and quires you have.
Greenheys MOT Station – Unit 4 Monton Street, Manchester, M14 4LS
Phone: 01612 267447
---
Greenheys MOT Station is a family run business and has been trading since 1981, where we have been providing a range of services to motorists from the heart of Manchester. We are located close to Manchester City Centre. Our services comprise of MOT's, Car Servicing, Bodywork Repairs, Tyres, Clutch Replacements plus many more.
S Garages LTD – 71 Shentonfield Road, Greater Manchester, M22 4RW
Phone: 01614 286666
---
Here at S Garages, we are experts in all types of mechanical repairs and that's why we are a trusted local vehicle repair centre. If you're experiencing problems with your car brakes, starter motor or clutch, we have fully trained mechanics on hand to get your car issues fixed and back on the road in the shortest time possible.
MOT and Service Centre LTD – 1302 Chester Road, Stratford, Manchester, M32 9AU
Phone: 01618 659099
---
If you need an MOT or Vehicle service in the Stretford area, then look no further than MOT and Servicing LTD. We are are specialists in a wide variety of vehicle repairs, which include MOT's, Car Servicing and Repairs, Tyres, Exhaust, Suspension & many more. No matter what car or van you have, we are ready to deal with your enquiry and get you back motoring in no time.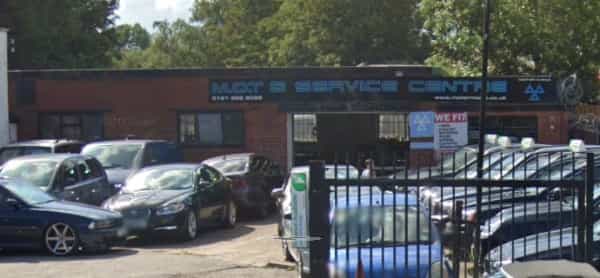 ---